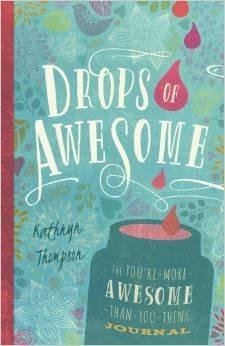 Drops of Awesome – If you aren't rooting for yourself, who will? Drops of Awesome is that unique discovery journal about celebrating the amazingness of you. Based on the viral blog Drops of Awesome, this book helps you become your own biggest cheerleader and tells your inner critic to stick a sock in it.
What did you accomplish today? More than you currently realize or give yourself credit for. As you work through Drops of Awesome, you will start to see just how much goodness you contribute to the world and as you feel that success, you will find that you can accomplish anything. You are awesome!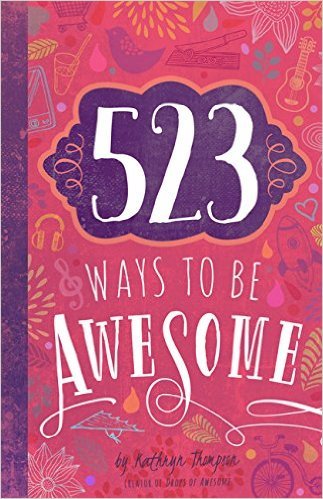 523 Ways to Be Awesome – Have you ever wanted to write a symphony, explore the galaxy, or save a life? With 523 Ways to Be Awesome, you will learn how you are already doing those and other amazing things . . . a bit . . . and how you can do them a bit more, one Drop of Awesome at a time. For example, you may not achieve "world peace," but you can:
Choose to forgive.
Let someone merge in front of you.
Listen when you really want to talk.
Based on the viral blog post that inspired Drops of Awesome: The You're-More-Awesome-Than-You-Think Journal (2014), this book is for anyone who listens to the negative voice inside her head, telling her she's not good enough and that her best efforts are insufficient. Author and blogger Kathryn Thompson returns with her signature wit and wisdom intact to help readers keep tally of the small victories that mean everything in life and discover their inner AWESOME.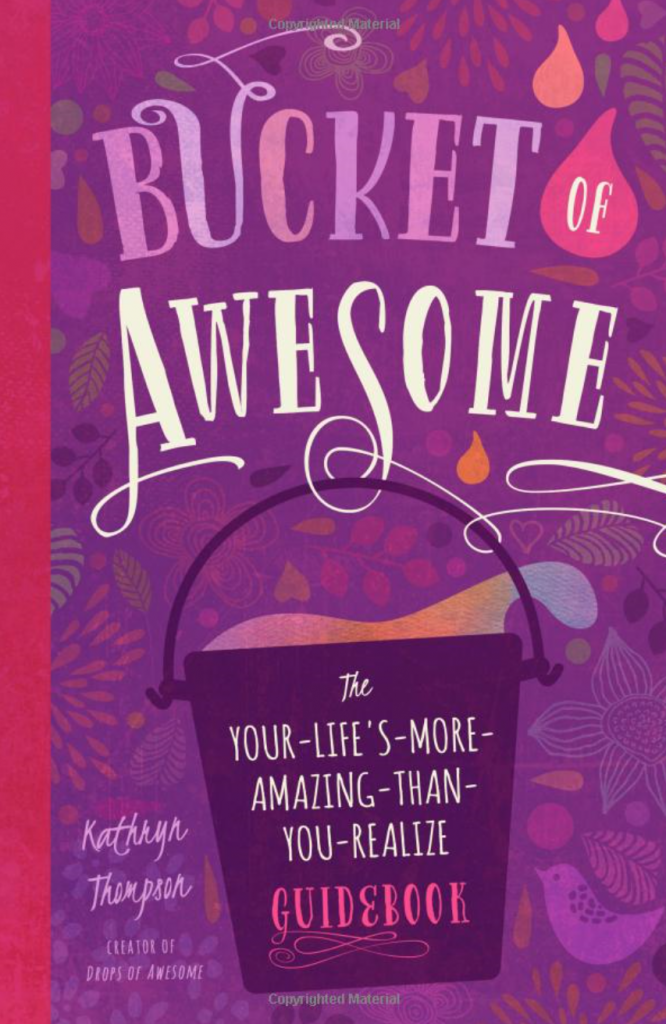 Bucket of Awesome – Your life has a story, and every day, you choose how you tell that story. Is it tragic, hilarious, boring, or triumphant? You decide. And every day, you choose the tone of what happens next based on the way you remember and frame your past.
Bucket of Awesome is a processing and writing guidebook to help put your life into joyful and hopeful focus. Working through its pages, you will learn and remember all the things that have made your life so remarkable and you will come to tell your story from a place of joy and optimism.
You will get the benefit of a renewed sense of gratitude and purpose, and those who come after will be inspired by a document that tells the story of your unique life and perspective.
Don't think you have a story worth telling? Give me an hour and I'll open your eyes to your Awesome!
Bad Day Ice Cream – Having a bad day? A bad week? A bad year? Bad Day Ice Cream is the cure to all that ails you!
Life is unpredictable, and bad days happen. While ice cream may not be a cure-all, when combined with encouraging advice it can be just the pick-me-up you need to keep going. This tongue-in-cheek cookbook makes the perfect gift for anyone going through a rough patch. Celebrated cookbook author Barbara Beery has created 50 unique recipes to help you get through any bumps in the rocky road, from getting a speeding ticket to dealing with a nosy mother-in-law. With humor that is anything but vanilla, Kathryn Thompson, author of the viral blog and book Drops of Awesome, provides the perfect dose of down-to-earth advice (or is it commiseration?) to put every piece of bad news in perspective. It's the cherry on top of each delightful treat!